Pakistan media has reacted to the unprecedented and historic welcome given to US President Donald Trump in India, saying that our hopes were dashed to the ground.
Pak media is keeping a close eye on Donald Trump's two-day visit to India, hoping that the United States President would talk about playing a mediation-level role between India and Pakistan on the issue of Kashmir. But after seeing a massive welcome given to President Trump in India, Pakistan has lost its all hopes.
The US President Donald Trump received a red-carpet welcome as he arrived in India on Monday on a two-day state visit, nearly five months after he shared the stage with Indian Prime Minister Narendra Modi at the grand 'Howdy Modi' event in Houston, Texas. Besides President Trump, First Lady Melania Trump will also arrive for a two-day India visit.
PM Modi on Monday welcomed US President Donald Trump and First Lady Melania Trump on their first-ever visit to Ahmedabad, Modi's hometown. The public in large numbers thronged to the enhanced Motera cricket stadium, where the two world's famous leaders addressed over 1.2 lakh people at the massive 'Namaste Trump' address. The stadium was also inaugurated by PM Narendra Modi and US President Donald Trump.
Pakistan Prime Minister Imran Khan has repeatedly requested President Donald Trump to play the mediation role to de-escalate tension between India and Pakistan on Kashmir issue, but now all hopes were dashed to the ground after seeing PM Modi and US President Donald Trump sharing the stage at the grand 'Namaste Trump' event in Ahmedabad, Gujarat.
Prime Minister Narendra Modi is one of the widely respected leaders in the world. Mr. Modi has a massive fan following not just in India but across the world too. PM Narendra Modi shared the stage with US President Trump at the packed Sardar Patel Stadium and introduced him to the gathering. In the presence of PM Modi and US President Trump, people chanted 'India-US relations Long live'. The US President, on the other hand, showered praises on his "close friend".
Donald Trump began his speech with Namaste! Namaste. Hello to India. Trump was full of praise for Modi and said, "Today, Prime Minister Modi is the tremendously successful leader of this vast Indian Republic. Prime Minister Modi, you are not just the pride of Gujarat — you are living proof that with hard work and devotion, Indians can accomplish anything — (applause) — anything at all, anything they want".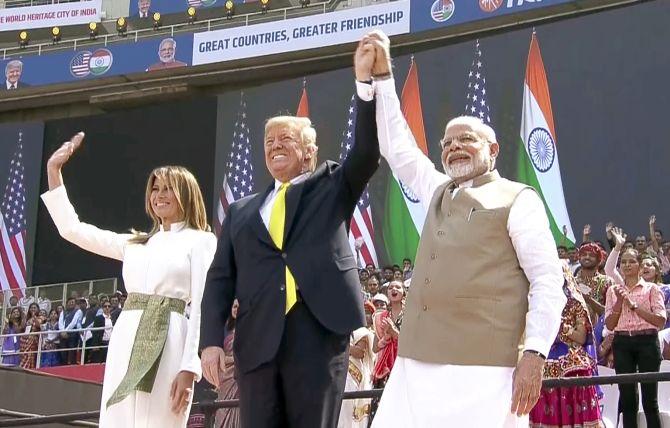 Speaking on the issue of terrorism in Pakistan, US President Trump said, "The United States and India are also firmly united in our ironclad resolve to defend our citizens from the threat of radical Islamic terrorism. Both of our countries have been hurt by Islamist terrorism and are united in defending citizens from its threat. Today, the ISIS territorial caliphate has been 100 percent destroyed. And the monster known as al-Baghdadi, the founder and leader of ISIS, is dead".
"Every nation has the right to secure and controlled borders. The United States and India are committed to working together to stop terrorists and to fight their ideology", he further said. Trump ended his speech in a different way, expressing gratitude to Indians "I want to just leave by saying: God bless India. God bless the United States of America. We love you. We love you, India, very much. Thank you. Thank you".